DVDRip Module
By Chishm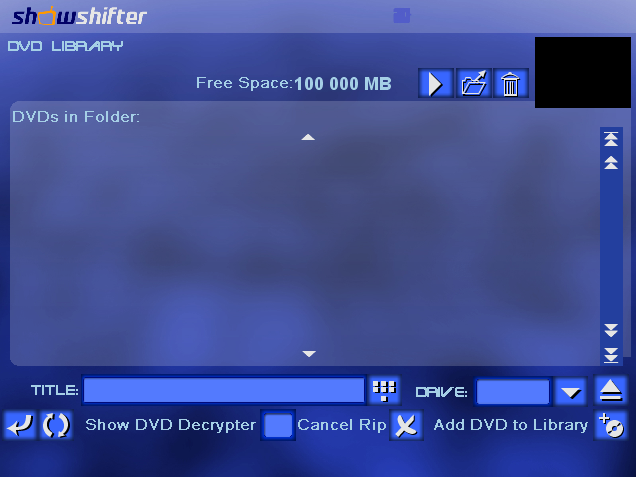 Latest Version
Please note: the following files are for the 3.10 version of Showshifter
Download SS 3.10 DVDRip Module
Download SS 3.10 DVDRip Source Code

Version 0.33
Please note: the following files are for versions of Showshifter before version 3.10
Download Pre SS 3.10 DVDRip Module
Download Pre SS 3.10 DVDRip Source Code

Suggestions, tips and enquiries to my email address, on the main page.
Contents
About
This module allows you to rip a DVD from within ShowShifter, and also has the option to delete current rips. It requires DVDDecrypter for the ripping, and will ask for it the first time you try to rip. It also needs a place to store rips, which can be changed with the Change folder button. It defaults to "C:\" (as everyone should have a C:\ drive) but you probably want to change that.
Check out more great plugins at the Showshifter Group.
How to install:
Download DVDRip.zip
Make sure your zip program has directories turned on
Extract the zip to your ShowShifter directory
Run RegAll.exe
How to rip:
Activate DVD Library from the ShowShifter main page
Insert a disc
Select a drive
Change the title if you want
Press the rip button
Wait until rip is done before using the DVDRip Module again
How to delete a rip:
Make sure you are in the correct DVD titles folder (ie the one that contains all your rips)
Select the DVD you wish to delete
Click the trash can button
Answer 'Yes'
How to play a rip:
Activate DVD Library from the ShowShifter home screen or Additional Modules menu, depending on your setup
Make sure you are in the correct DVD titles folder (ie the one that contains all your rips)
Select the DVD you wish to play
Click the play button on the top of the screen
How to play a disc:
Insert disc
Make sure the drive list shows the drive the disc is in
Press the play button on the bottom of the screen
How to place DVDRip on the ShowShifter home screen:
Please note: Doing this will replace the DVD module with the DVDRip module
Run regedt32
Scroll to the key HKLM\Software\Home Media Networks\ShowShifter\Configuration\DVDRip
Add a dword value named ShowOnHome (if it is not already there) with one of the following values:

0: Don't display module at all
1: The default, only show in Additional modules list
2: Show only on home screen
3: Show in both places (1+2)

Close regedt32 and restart ShowShifter
Thanks to:
Burkheart for his SDK Getting Started guide and for the registry code I borrowed
Lusid1 for his help with correcting registry bugs
Travis Thompson & Shane Metzler (Codeguru) for their tutorial and code to open/close drives
The Showshifter development team, for their code examples
The authors of DVDSpy for Girder, for their DVD title code
Anyone else I missed (send an email if you think you should be acknowledged)

To Do:
Automatically update display when a DVD is inserted
Check that the drive is ready before updating Title on refresh (this is a slowdown issue)
Fix bug where if CD Module is enabled a DVD has to be in the drive on startup for the DVDRip Module to recognise that a disc is a DVD (may be a Showshifter bug, as when the CD Module is enabled and a DVD is inserted only after Showshifter starts, it comes up asking to scan CDROM for Video files, not to play a DVD movie, as it should)
History:
0.10 - 9/4/2004
0.12 - Unreleased

Fixed registry bug that crashed SS when DVDRip was activated
Moved tip text to uis, so it is easily editable

0.20 - Unreleased

Finally added ability to play from the DVDRip module. If you are going to use this feature, you must have the DVDModule properly installed and registered. Failure to do so will result in SS crashing
Added registry entry to control where user returns after playback has finished. If ReturnAfterPlay is set to 0 or doesn't exist, you will be returned to the main menu. Otherwise you will be returned back to DVDRip

0.30 - Unreleased

Added remote shortcuts for play (PLAY), eject (EJECT), change folder (SETTINGS) and rip (RECORD)

0.31 - 27/4/2004

Realised that the DVDModule will always return to the main menu, so removed registry option that was meant to control this
Fixed bug that prevented the DVD from playing
Created custom menu graphics

0.33 - 31/4/2004

Fixed file splitting problem that prevented playback
Fixed DVD name with spaces not being recognised

0.40 - 24/10/2004

Updated for SS 3.10. This version is only compatible with SS 3.10. If you want to use DVDRip on an earlier version, download DVDRip version 0.33.

0.41 - 21/11/2004

Fixed a (stupid) bug where it would always ask for DVDDecrypter.exe (Thanks Lusid)

0.42 - 11/1/2004

Updated theme for SS 3.10
Added option of showing DVDDecrypter
Added ability to set name via registry
Added option of cancelling a rip
Added test code to update title on WM_DEVICECHANGE, uses hooks and may not work

0.43 - 28/1/2004

Fixed play bug, now it will play the selected file
Added button to play disc, now that the DVD module remembers the last played file
Added Ability to set DVDRip as a replacement for the DVD module on the front page - to do so, see above